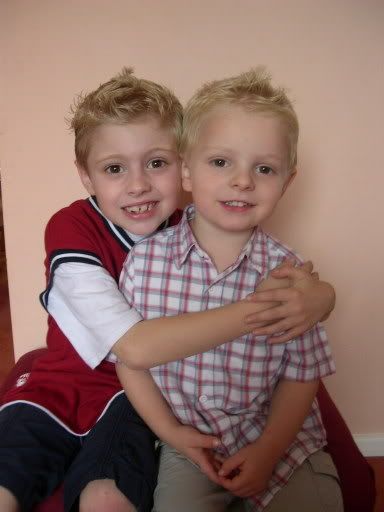 'What is so exciting about making cards and crafting? Surely sticking bits of paper together can't be that good????'
Crikey!!! Was he living dangerously or what?
I started crafting as a way to relax and destress after I had George (my youngest son). Now it is more a way of life but what an exciting way of life! I have met some fantastic people and made some good friends through this hobby. Infact this hobby is soon replacing my work, hence handing in my notice last week.
In the New Year I am going to be 'working' with
Traci
and Maggie. It will involve making samples, helping at
Traci's Craft Cabin
and also running a beginners class for cardmaking. I am sooooo excited but also soooooo nervous and also a teeny bit flattered that she asked me.
So changes are ahead for me but good and exciting ones with a hint of a challenge thrown in for good mesure.
One thing which remains constant in my life though are my boys who are my life. The eldest and with eye lashes any woman would love is my 8 year old Harry and the little devil with a twinkle in his beautiful eyes is George who is 4.
On a crafting note I have almost completed Steve's Christmas card, or rather I will have when a certain someone returns my Santa stamp. You know who you are Ms C!!!!